Global reach, Local knowledge
SANTO is proud to be an OEM producer and can tailor abrasive products to the needs and specifications of our customers. Please find below our master program for 2016 with the most used product configurations.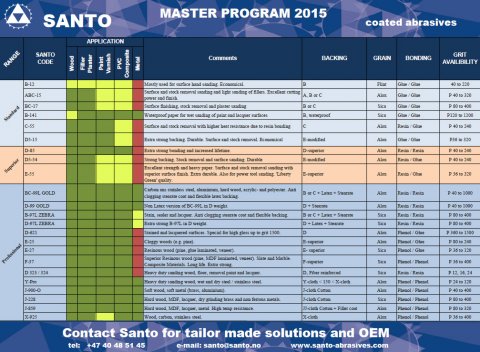 The demand from market to market is often different, and being an individual oriented supplier, we realize that local know how and traditions are the basis for choosing among the products. This often means different focus on sanding applications and the adaption of the product to the local sanding operations as well as material to be sanded. SANTO products are therefore 'made to measure' according to local requirements.
individual colouring
individual branding
individual production runs
individual size
individual packaging
Please contact us to find out what we can do for you. We shall be glad to guide you through our program.

Santo Abrasives AS, org: 994 259 938

Fugleveien 4
1448 DrÝbak
Norway